The SpiderX Holster features a self-locking design. The geometry of the holster and plate prevents the camera from moving up and out of the holster accidentally.

Simply rotate upward while removing your camera for a fast release. This feature feels natural to the user, while providing an extra layer of security for your camera!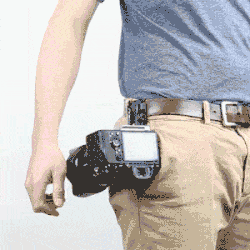 Secure Freedom of Movement
Our patented ball-joint system gives your camera just enough freedom of movement so that it's not rigidly bolted to your body. Your camera moves freely with you as you move. Your lens points backward allowing you to squat quickly with no worries, and your flash (if you use one) hangs parallel to your leg. No other camera holster offers this level of comfort.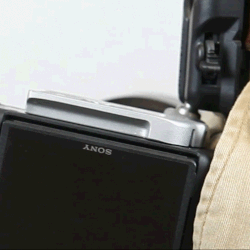 Simple, Safe, and Secure!
The SpiderX Holster is a rugged yet versatile piece of equipment, allowing you to easily clip it onto any belt! Your mirrorless / lightweight DSLR camera will remain safe at your hip on any trip with the holster's easy to use 2 Position Lock!

If you're going on longer hikes, we recommend checking out our SpiderX Backpacker Kit which allows you to attach it to any backpack or messenger bag strap, as well as harness a GoPro at the same time!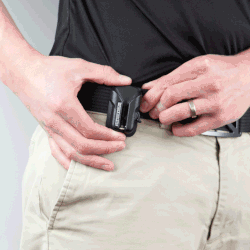 OTHER AMAZING SPIDER PRODUCTS